Sublimed, a French start-up
Sublimed: the start-up specialized in chronic pain

Founded in 2015 by Nicolas Karst, a former engineer from the CEA, and Dr. Jean-Pierre Alibeu, former Head of the Pain Centre in the Grenoble university hospital, Sublimed specializes in the development of medical devices for treating patients with chronic pain.
The start-up sells actiTENS, a mobile electrical transcutaneous neurostimulation device (MD class IIa) for which Maatel assisted Sublimed in the product industrialization and mass production.
ActiTENS: an idea is born

The idea resulted from a meeting between Nicolas Karst and Dr. Jean-Pierre Alibeu, then Head of the Pain Department. Dr. Alibeu presented his idea to Nicolas Karst for using neurostimulation therapy to treat chronic pain, mainly in patients of an average age of 50.
NK: "Traditional devices for dispensing this therapy are heavy, and bulky with long cables which hamper their use. They also create psychological and social obstacles for patients, particularly in the workplace.
This situation drove us to develop a more ergonomic solution for patients, both compact and discreet."
Why Maatel?

Sublimed had a functional prototype but needed Maatel's help to adapt their product to medical standard compliance and mass production.
NK: "ISO 13 485 certification was an essential criteria. Maatel has the necessary medical certification, as well as strong experience in the electronic medical device sector."
A satisfied customer
The Maatel team's technical expertise and reactivity were particularly appreciated throughout development to the production phase.
NK: "The Maatel team was always readily available and provided us with daily assistance. We felt we were advancing together."
The next stage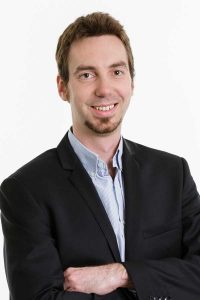 Sublimed now has a complete product which meets medical standards and bears the CE mark, allowing them to distribute actiTENS throughout the European Union.
NK: "Our next goal is to venture into the American market by 2020." An ambition supported by Maatel thanks to their experience with the American market and their organization suited to American administrative and medical safety standards, applied by the FDA (Food & Drugs Administration).
Visit Sublimed's website for more information: https://subli-med.com/